This delicious Tipsy Texan Cocktail is a fruity and bubbly drink featuring tequila, cranberry, ginger ale, and other light and delicious flavors!
If you're looking for a classic cocktail with light, bright flavors, look no further than this sweet beverage that hails from the Lone Star State! It has a gorgeous red color and tastes distinctly like cranberry, but it also has complex layers of other flavors from peach schnapps and ginger ale.
This is a great drink that can be made with common ingredients on any cocktail bar.
Have leftover tequila you want to use? Make this Ranch Water Cocktail for another deliciously light drink!
Why You'll Love this Tipsy Texan Cocktail Recipe
Next time you're looking for a crowd pleasing beverage, whip up a round of Tipsy Texan Cocktails! This beverage combines your favorite tequila with the flavors of peach and cranberry, and ginger ale gives it a bubbly lift. This is a refreshing cocktail bursting with sweet and delicious flavors.
Best of all, you only need 4 ingredients to put this beverage together! Top it off with a couple of garnishes and a pretty cocktail straw for a gorgeous presentation and you've got an iconic drink.
When it comes to Texas cocktails, this is a fun and exciting option with lots of flavor and character! In just a few minutes, you can easily prepare a delicious Tipsy Texan. Perfect for pool parties, picnics, BBQs, and more!
Cocktail Ingredients
Tequila – Espolòn tequila is a great quality spirit for a reasonable price, but feel free to use your favorite brand. You'll want a silver (blanco) or gold (reposado) tequila.
Peach Schnapps – provides an extra layer of fruity flavor as well as an additional boozy kick.
Ginger Ale – gives your cocktail a fizziness and also adds that classic sweet and slightly peppery ginger flavor.
Cranberry Juice – aside from acting as a delicious flavor base for the cocktail, cranberry juice also gives it a beautiful and deep red color.
Mint Leaf – this optional ingredient is the perfect garnish and provides a nice color contrast.
Maraschino Cherries – another garnish ingredient, these cherries will add even more sweetness and accentuate the gorgeous red color.
Ice Cubes – you'll want to enjoy your Tipsy Texan ice cold!
How to Make a Tipsy Texan Cocktail
Fill a glass with ice cubes. Pour in the tequila, peach schnapps, ginger ale and cranberry juice.
Stir with a straw. Garnish with cherries and a mint leaf.
FAQs
What is the drink of Texas?
Unofficially, the margarita is the state libation of Texas. Somewhat similar to this cocktail, a margarita is made with tequila and a flavored liqueur, as well as lime juice.
However, lots of tequila cocktails are enjoyed throughout the state, including this Tipsy Texan. Another popular drink is Tipsy Texan Tea, which involves adding tequila and lemon juice to sweet tea.
What alcohol is Texas famous for?
Texas is most often associated with tequila and whiskey. There's no official alcohol by state, but these are some of the most popular spirits to come out of Texas.
Where else can I learn about Texas cocktails?
There's a book by David Alan called Tipsy Texan: Spirits and Cocktails from the Lone Star State that has lots of info on Texan and Texan-style drinks and liquors. You can also search around the internet and find lots of great resources that go in-depth on drinks from Texas!
What are good garnishes for a Tipsy Texan?
Mint is a great option as it adds some color interest as well as a slight hint of cool, minty flavor. I like to add a skewer of maraschino cherries to play with the red color scheme, but you could also garnish with a slice of lemon, lime, orange, or even float a peach slice or two in the cocktail.
Popular Variations and Substitutions
This drink is easy to make in larger quantities as well. Simply triple or quadruple all of the ingredient measurements and mix in a pretty cocktail pitcher instead of a glass.
For a less boozy version of this cocktail, use some peach juice instead of the peach schnapps. You can also omit the peach flavoring altogether if you prefer.
You can use a different flavored liqueur if you want to switch up the cocktail's flavor profile. Use a cranberry liqueur to highlight the cranberry, or go with something sweet and light like strawberry.
Though we prefer silver tequila for this recipe, a gold tequila will also work well and offer additional flavor complexity. Anything but añejo tequila will be fine!
Another kind of soft drink can be substituted for the ginger ale, though you'll lose the hint of ginger flavor. Go for something similar like lemon-lime or even a plain sparkling water just for the bubbles.
More Recipes You'll Love
The Tipsy Texan Recipe
Yield: 1 drink
Tipsy Texan Cocktail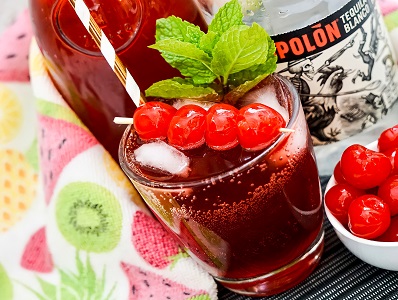 You'll love this sweet and smooth Tipsy Texan flavored with cranberry juice, ginger ale, and tequila!
Ingredients
1oz Tequila
1.5oz Peach Schnapps
1.5oz Ginger Ale
1.5oz Cranberry Juice
Mint Leaf (Garnish)
Ice Cubes
Instructions
Fill a glass with ice cubes.
Pour in the tequila, peach schnapps, Ginger Ale & cranberry juice.
Stir with a straw.
Garnish with cherries & a mint leaf.
Notes
Either silver (blaco) or gold (reposado) tequila can be used for this cocktail.
Garnish with mint, cherries, a slice of any citrus fruit, or some peaches slices.
Another type of liqueur can be substituted, like strawberry or cranberry.
Nutrition Information:
Yield:
1
Serving Size:
1
Amount Per Serving:
Calories:

187
Total Fat:

0g
Saturated Fat:

0g
Trans Fat:

0g
Unsaturated Fat:

0g
Cholesterol:

0mg
Sodium:

12mg
Carbohydrates:

22g
Fiber:

1g
Sugar:

20g
Protein:

1g