This unique and delicious Peaches and Cream Cocktail combines peach flavored Crown Royal whiskey with bubbly and sweet cream soda for a fun and quirky beverage!
You'll love the sweet and fruity flavors of this bubbly cocktail. Peach whiskey and cream soda combined with peach schnapps make for a distinctly peachy and luscious beverage.
And if you have leftover Crown Royal, why not use it to make some Crown Royal Peach Shooters and turn any gathering into an instant party?
Why You'll Love this Cocktail
You'll only need 3 ingredients to put together this peaches and cream flavored cocktail. Whiskey based with a fizzy twist, this sweet beverage is like dessert in a glass!
The flavors of Crown Royal Peach and peach schnapps ensure that this cocktail is bursting with the yummy flavors of fresh peaches, and cream soda provides a distinct creamy vanilla taste that pairs beautifully with the peach.
Garnish with a Maraschino cherry and a fun straw and you've got a gorgeous and delicious cocktail that's perfect for just about any occasion!
Whether you're serving these up for happy hour, at a party, or just throwing a pleasing cocktail together to unwind at the end of the day, this peaches and cream whiskey drink will be a huge hit.
Crown Royal Peaches and Cream Drink Ingredients
Crown Royal Peach – this flavored whiskey brings in deep and warm spices combined with light and sweet peach.
Peach Schnapps – infuses your beverage with more juicy peach flavor.
Cream Soda – provides some extra sweetness and a nice bubbliness that makes these cocktails so refreshing!
Ice – you'll want to enjoy this cocktail ice cold.
Cherry – for garnish and a pop of color.
How to Make a Peaches and Cream Cocktail
Fill a glass with ice cubes. Pour in the peach schnapps and Crown Royal Peach.
Top off with cream soda.
Garnish your peaches and cream cocktail with a cherry.
FAQs
Can this drink be turned into a peaches and cream frozen cocktail?
Yes, and the process is simple! Combine all of the ingredients in a blender, including the ice.
Give it a good whirl and you'll end up with a slushy-like consistency. This is a perfect way to serve this cocktail during the warmer months.
Can I make this as a peaches and cream mocktail?
Sure! Leave out the peach schnapps and use an alcohol-free whiskey (yes, they exist – check out this one) or simply leave the alcohol components out altogether and combine cream soda with some peach puree or peach juice.
How do I make a peaches and cream shot?
One simple way to make this into a shot is to simply reduce the amount of liquid but keep the same proportions, and prepare in a shot glass instead. Take a look at these adorable mini mason jar shot glasses. In this case, you may just want to mix the Crown Royal with the cream soda.
Feel free to experiment with the amounts until you find something you enjoy. Just remember to drink responsibly!
Popular Variations and Substitutions
For additional garnish, use fresh peach slices.
To make this drink extra creamy, mix in a bit of coconut milk.
If you want even more peach flavor, mix peach puree into your cocktail.
Another option to achieve the "cream" part of this drink is to use a whipped vodka. Just keep in mind you'll probably need a mixer like peach juice to balance out the additional alcohol if using instead of the soda.
This can also be made as a peaches and cream martini by substituting a cream liqueur for the Crown Royal and by adding a bit of Triple Sec and some peach puree. You'll most likely want to prepare in a cocktail shaker for the martini version.
More Recipes You'll Love
Peaches and Cream Whiskey Cocktail
Yield: 1 drink
Peaches and Cream Cocktail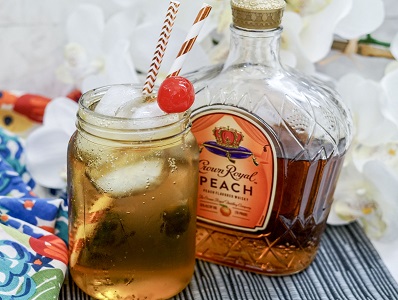 You'll love this sweet and fruity Peaches and Cream flavored cocktail featuring Crown Royal Peach whiskey and bubbly cream soda!
Ingredients
1 oz. Crown Royal Peach
1 1/2 oz. Peach Schnapps
Ice
Cherry (garnish)
Instructions
Fill a glass with ice cubes.
Pour in the peach schnapps & Crown peach.
Top off with cream soda.
Garnish with a cherry and serve.
Notes
For additional garnish, use some slices of fresh peach.
Extra peach flavor can be added by mixing in some peach puree.
To get an even creamier consistency, add some coconut milk.
Blend the ingredients with ice in a blender to achieve a frozen peaches and cream whiskey drink.