This Sparkling Blue Hawaiian is a sweet and bubbly way to cool off this summer! With its refreshing blue color and mixture of tropical fruity flavors, this cocktail is a vacation in a pitcher.
Much like this tasty Blue Lagoon Cocktail, you'll love the fun and festive color of this summery drink.
Pair it with flavorful Air Fryer Bang Bang Shrimp for a cocktail hour your guests won't soon forget!
Why You'll Love this Sparkling Cocktail
In the summer, I love preparing drinks with lots of sweet and tropical flavors to help beat the heat.
This Blue Hawaiian cocktail is flavored with creamy coconut and tangy pineapple for a classic combination that will take you right to the beach!
Best of all, it's so easy to prepare this cocktail in your own kitchen. Whip up a big pitcher for parties and barbecues and garnish with fresh fruits for a stunning presentation your friends will adore.
With coconut rum and champagne and some blue Curaçao for a citrus twist, this gorgeous sparkling drink will become a summer favorite!
Ingredients for a Pitcher of Sparkling Blue Hawaiian
Coconut Cream – Coconut Cream adds a subtle creaminess to your cocktail as well as additional coconut flavor.
Blue Curaçao – gives this drink its signature blue color, as well as an extra twist of citrus.
Coconut Rum – feel free to use your favorite coconut rum–you don't need anything too expensive!
Champagne – for a fizzy bubbly lift. I actually prefer to use Prosecco, but both work fine.
Pineapple Juice – Pineapple juice pairs well with the coconut flavor and evokes classic drinks like piña coladas.
Ice Cubes – you'll want to serve this drink ice cold.
Pineapple Slices – for garnish and to accentuate the pineapple flavor.
Cherries – provide an extra pop of color that ties everything together.
How to Make a Large Batch of Blue Hawaiian Drinks
Add half a tray of ice cubes into a large pitcher.
Pour in the coconut rum, champagne, pineapple juice, blue curaçao and coconut cream into the pitcher.
Stir these together well.
Pour the sparkling blue Hawaiians into cocktail glasses. Garnish each glass with pineapple slices and cherries.
Add a pretty umbrella and some colorful straws.
FAQS
How do I make a frozen blue Hawaiian?
To turn this into a frozen slushy drink, combine all of the ingredients in a blender with some extra ice. Give it a blend and check for consistency. If it's too thick, try adding more liquid. If it's too thin, more ice.
You may want to omit the Champagne if you do this method, as the drink won't retain as much of its fizziness in slush form. But feel free to experiment and see what happens!
How do I make a sparkling blue Hawaiian mocktail?
Mix the pineapple juice and coconut cream with some blue fruit punch and use sparkling white grape juice or sparkling cider instead of the sparkling wine.
You could also use blue food coloring to achieve the desired color. For even more sweetness, try a lemon-lime soda for the carbonation instead.
Can I use coconut cream right from the can?
You can, but sometimes it can be beneficial to give the coconut cream a whirl in your blender before using it in your cocktails. This will ensure it has an ultra-smooth and creamy consistency.
That being said, if you're pressed for time, it's perfectly fine to use it right from the can–it will be delicious either way!
Popular Variations and Substitutions
Using other kinds of rum can diversify the flavor profile of this drink. Malibu sells a variety of rums infused with flavors like strawberry, pineapple, lime, watermelon, and more!
You can also make your own rum infusions by mixing fresh fruit into rum and letting it rest for 2-3 days. I recommend kiwi, pineapple, papaya, dragon fruit, or starfruit for a fun and exotic rum infusion!
Feel free to throw in a splash of orange juice as well; it will compliment the citrus flavor of the Curaçao. Just be aware it may alter the color of the cocktail a bit.
Another great idea for garnish is a slice of orange.
Edible flowers are also perfect for garnish if you want something especially elegant. Lavender, violets, and rose petals would be beautiful with this blue Hawaiian.
Stir some fresh fruit into the pitcher to really infuse your drinks with fruity flavor.
More Tropical Cocktail Recipes You'll Love
Sparkling Hawaiian Cocktail Recipe
Yield: 8 drinks
Sparkling Blue Hawaiian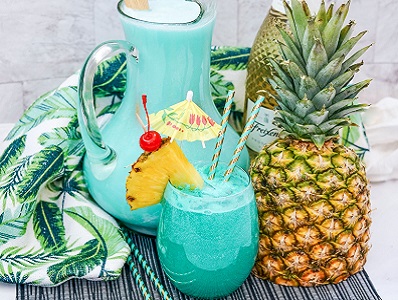 You'll love this gorgeous tropical drink with flavors of coconut and pineapple. Champagne gives it a bubbly twist and blue Curaçao provides the signature blue color!
Ingredients
6oz Blue Curacao
14oz Coconut Rum
375ml Champagne (half bottle)
Ice Cubes
Pineapple Slices
Cherries
Instructions
Add half a tray of ice cubes into a large pitcher.
Pour in the coconut rum, champagne, pineapple juice, blue curaçao & coconut cream into the pitcher.
Stir well.
Pour the sparkling blue Hawaiian's & garnish with pineapple slices and cherries.
Notes
Champagne and Prosecco can both be used for this cocktail, but I prefer Prosecco as it tends to be cheaper and has a slightly sweeter profile that works perfectly for this drink.
Use different flavors of rum to customize to your liking.
Nutrition Information:
Yield:
8
Serving Size:
1
Amount Per Serving:
Calories:

271
Total Fat:

5g
Saturated Fat:

4g
Trans Fat:

0g
Unsaturated Fat:

0g
Cholesterol:

0mg
Sodium:

15mg
Carbohydrates:

37g
Fiber:

0g
Sugar:

33g
Protein:

1g