This sweet and tropical Blue Lagoon Cocktail is the perfect drink to cool off in the summer, for sipping poolside, or to serve during BBQs and cookouts. Or, if it's the middle of the winter, make a blue lagoon drink to whisk you off to your favorite warm destination with just a few sips!
Why You'll Love this Blue Lagoon Cocktail
Whether it's a hot summer day and you're craving something sweet and refreshing or you're feeling down on a cold day and want to transport yourself somewhere warm and pleasant, this Blue Lagoon drink is an ideal cocktail.
With a couple of simple ingredients, you can make yourself a
zingy drink
that
tastes like paradise
. Just like this
Berry Bad Day Cocktail
, a Blue Lagoon drink is a
great remedy for a bad day
!
Ingredients
1 Shot Vodka – use your favorite vodka.
1 Shot Blue Curaçao – this Caribbean liqueur–made with the peel of Laraha citrus fruit and then dyed blue–gives your drink its signature orange flavor and blue color.
Lemonade – enhances the sweet and tangy citrus flavor.
Orange Slice – a slice of orange (or any citrus fruit) ties together all the flavors of this cocktail.
Cherry – for a pop of color and sweetness.
Ice Cubes – this drink is best served cold!
Blue Lagoon Instructions
Fill a highball glass with ice cubes.
Pour in 1 shot of vodka.
Then add 1 shot of Blue Curacao.
Top off with lemonade.
Garnish with an orange slice and a cherry! Add a pretty reusable cocktail straw like this one and serve.
FAQs
Blue Lagoon Cocktail History
The creation of this cocktail is typically credited to Andy MacElhone, who was the son of the famous Harry MacElhone of Harry's New York Bar.
The drink came about in the early 1970s in Paris and has since become a classic cocktail. It's typically served in a highball glass.
How to Make a Frozen Blue Lagoon?
This drink can be made in the same style as a frozen margarita by adding a bit of tequila and blending all of the ingredients until they form a frozen consistency.
How to Make Blue Lagoon Slush?
If you want to keep this drink as is but want the consistency to be more like a slushie, follow the same method as above by pouring all of the ingredients into a cocktail blender.
You may need more crushed ice depending on how thick you want your cocktail slush to be. This is a great way to make your blue lagoon drink extra refreshing during the hotter months!
How to Make a Blue Lagoon Mocktail?
To make this drink a mocktail, you'll just need a few simple ingredients: blue curacao syrup, lemon juice, and a lemon-lime soda of your choice. You can also add some lemonade if you like.
Popular Variations and Substitutions
If you don't like actual ice cubes in your cocktail, feel free to add everything to a cocktail shaker with ice and give everything a good shake, then strain it out.
Any citrus fruit can be used as a garnish. You can also try limeade instead of lemonade, or even a splash of orange juice.
Add a dash of simple syrup if you prefer your cocktail on the sweeter side.
You can substitute rum, tequila, or gin for the vodka to switch up the flavor profile of this cocktail.
A drink umbrella is also a cute addition if you want to add some presentation points!
More Tropical Recipes You'll Love
Blue Lagoon Cocktail Recipe
Yield: 1 drink
Blue Lagoon Cocktail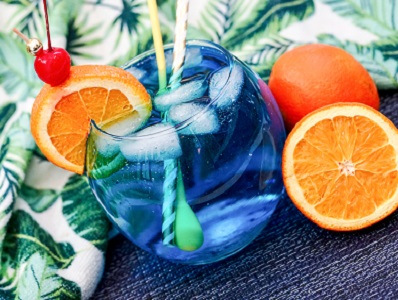 This Blue Lagoon drink is a citrusy and tropical cocktail perfect for the summer or to whisk you away to a tropical beach anytime of the year!
Ingredients
1 Shot Vodka
1 Shot Blue Curacao
Lemonade
Orange Slice
Cherry
Ice Cubes
Instructions
Fill a glass with ice cubes.
Pour in 1 shot of vodka.
Then add 1 shot of Blue Curacao.
Top off with lemonade.
Garnish with an orange slice and a cherry.
Notes
Pour all of your ingredients in a blender with some extra ice and blend to create a Blue Lagoon cocktail slush.
If you don't want to dilute your drink with crushed ice, feel free to use a cocktail shaker full of ice to get it nice and cold before serving.
Nutrition Information:
Yield:
1
Serving Size:
1
Amount Per Serving:
Calories:

209
Total Fat:

0g
Saturated Fat:

0g
Trans Fat:

0g
Unsaturated Fat:

0g
Cholesterol:

0mg
Sodium:

12mg
Carbohydrates:

29g
Fiber:

1g
Sugar:

27g
Protein:

0g