This perfect Skinny Bitch Cocktail has 100 calories and is quick and easy to make for happy hour!

You'll love being able to put together a quick and sophisticated beverage for yourself or your friends. It doesn't get much easier than this drink featuring vodka, club soda, and lime for a subtle hint of citrus flavor.
With these 3 simple ingredients and just a few minutes of your time, you can have a whole round of these fizzy and refreshing cocktails.
And, if you're looking for the perfect cocktail for a hot summer day? This Blue Raspberry Vodka cocktail is a light and fruity drink with a gorgeous summery color!
Why You'll Love this Perfect Skinny Bitch Cocktail
You may be asking: what is a skinny bitch cocktail? This simple drink is great for lovers of light and citrus-y drinks.
With only 3 ingredients, putting together one of these Skinny Bitch Cocktails will only take you a minute or so, and best of all, each drink is only 100 calories!
That's where these cocktails get their name. There's a reason these quick club soda cocktails are the signature drink of the ladies of the Real Housewives of Sydney!
We use Grey Goose and soda for this Skinny B, but any kind of vodka will work. If you love simple vodka cocktails like this skinny drink, you should also try my Cranberry Vodka Spritzers!
Ingredients
Vodka – I used Grey Goose vodka for my drinks, but you can use whatever vodka you prefer to drink.
Club Soda – plain sparkling soda water works great and gives these skinny cocktail drinks a refreshing fizzy lift.
Lime Slices – add some color and a little zing of citrus flavor.
Ice Cubes – this drink is best enjoyed ice cold, so be sure to serve over lots of ice cubes!
How to Make Skinny Bitch Cocktails
Chill a glass, then fill with ice cubes.
Pour in your vodka.

Cut a slice of lime and squeeze the lime juice into glass.
Top with club soda.
Add another slice of lime for garnish.
If you prefer, you can mix this Skinny Bitch drink in a cocktail shaker. Here's a beautiful Lefonte Cocktail Shaker made of glass and stainless steel – this will look gorgeous on your bar.
Skinny Bitch Drink FAQs
Can I use bottled lime juice in this skinny b drink?
Use fresh lime juice, if you possibly can. Freshly squeezed lime juice is so much more flavorful than bottled lime juice.
Sure, you can use bottled in a pinch, but always try the real thing when making these easy refreshing cocktails!
How do club soda and sparkling water differ?
Typically, drinks sold as "sparkling water" consist of water that is naturally carbonated mineral water that comes from springs or wells.
Club soda is very similar to sparkling water, but the carbonation and minerals are added by the manufacturer rather than occurring naturally.
They function in essentially the same ways and can be use interchangeably, though some people notice difference in taste from brand to brand due to different balances of minerals.
Some people also find that club soda has a slightly salty taste.
What is the lowest calorie cocktail?
This Skinny Bitch Cocktail has a calorie count of approximately 100 calories per serving, and it doesn't get much lower than that when it comes to skinny vodka drink recipes.
No need to worry while you're enjoying these body conscious diet cocktails! And if you're like me, it will become a favorite drink that's refreshing and so easy to make.
What makes a cocktail skinny?
In general, you'll want to keep a couple of things in mind. For one, fewer ingredients typically means fewer calories. Drinks that are simple and subtle will typically be the "skinniest."
For skinny mixers, opt for fresh fruit juices as opposed to processed juices that may have added sugars or other ingredients.
Use zero-calorie flavored seltzer or plain sparkling water or club soda for a refreshing and fizzy mixer that won't add on too many calories.
Popular Variations and Substitutions
Flavored vodka is one easy ingredient that can change the overall taste of your cocktail. Use something citrus-y like lemon, lime, or grapefruit to go along with the lime, or try something like peach or raspberry to add some sweetness.
You could even go with something like cucumber for a refreshing twist on this skinny cocktail!
Likewise, using a flavored club soda is a great way to add some extra flavor and really make this cocktail your own.
Use a flavor that matches with your vodka or try to mix and match to see what flavor combinations you can create making your own skinny vodka cocktails!
For an even more sophisticated presentation, take a piece of lime peel and give it a nice twist. Then rub it around the rim of your glass, squeeze it over the drink to express the oils, and pop it into the cocktail!
These mason jar glasses are great for a summer afternoon cocktail, but if you want to up the sophistication level, serve your Skinny B drinks in these classy Godinger cocktail glasses!
Other Cocktail Recipes You'll Love
Skinny Bitch Recipe
Yield: 1 drink
Skinny Bitch Cocktail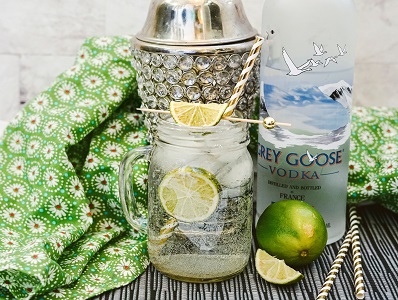 This Skinny Bitch Cocktail is a low calorie drink that's refreshing and easy to make for happy hour!
Ingredients
1 1/2 oz Vodka
1/2 oz lime juice, freshly squeezed
ice cubes
Instructions
Fill a chilled glass with ice cubes.
Pour in 1 1/2 shot glasses of vodka.
Cut one slice of lime and squeeze the juice into the glass.
Top with club soda.
Add another lime slice for garnish.
Notes
You can use bottled lime juice, but fresh lime juice is preferred.
Substitute flavored vodka or club soda to customize this cocktail to your preference.
Why not make this simple and iconic Cosmopolitan Cocktail the next time you want something easy but elegant?
Nutrition Information:
Yield:
1
Serving Size:
1
Amount Per Serving:
Calories:

101
Total Fat:

0g
Saturated Fat:

0g
Trans Fat:

0g
Unsaturated Fat:

0g
Cholesterol:

0mg
Sodium:

3mg
Carbohydrates:

1g
Fiber:

0g
Sugar:

0g
Protein:

0g