For a sweet and summery cocktail that's a unique twist on a classic beverage, whip up an Orange Creamsicle Martini, complete with an orange slice and whipped cream as tasty garnishes!
Craving something sweet and creamy with a boozy kick? Look no further! This tasty creamsicle martini with vanilla vodka and orange juice is bursting with nostalgic flavors. Excellent for the summertime, this delicious cocktail is like dessert in a martini glass.
Just like this Baileys Strawberries and Cream Martini, you'll love the dessert-like twist of this elegant but quirky cocktail!
Easy to make and fun to sip, you'll love the combination of orange flavors with sweet vodka. Add some dairy for a creamy finish, top with a dollop of whipped cream, and you've got yourself a satisfying and refreshing drink!
Next time you get a hankering for a creamsicle, just know that the classic flavors are a few sips away.
Why You'll Love this Orange Martini Recipe
Get ready to sip on sunshine with this cocktail creation: the Orange Creamsicle Martini! This delightful concoction brings back childhood memories of indulging in creamy, citrusy popsicles on hot summer days.
Now, we've transformed those nostalgic flavors into a sophisticated and refreshing adult beverage.
With a perfect balance of zesty orange and smooth, velvety cream, this martini is a true summer sensation that will transport you to a state of pure bliss.
Shake up your mixology skills, grab your cocktail shaker, and get ready to savor every sip of this creamy dream in a glass!
Orange Vodka Martini Ingredients
Vanilla Vodka – this flavored vodka is a key ingredient in this cocktail and channels the classic taste of vanilla ice cream.
Triple Sec – an orange liqueur that packs an extra boozy punch and infuses this cocktail with even more orange flavor.
Orange Juice – use store bought orange juice for convenience, or make your own fresh squeezed juice for a super authentic citrusy explosion!
Half & Half – this provides a rich and creamy texture, as well as that dairy flavor that would otherwise come from vanilla ice cream.
Whipped Cream – for a sweet and light garnish that's the perfect way to top off this drink.
Orange Slice – add as another garnish for a pop of color and fragrance.
Ice Cubes – just like the classic frozen treat, you'll want to enjoy this creamsicle cocktail ice cold!
How to Make a Vanilla Vodka Orange Martini
Gather your ingredients and fill a cocktail shaker with ice cubes.
Pour in the vanilla flavored vodka, triple sec, orange juice and half & half. Shake well.
Pour into a martini glass or other cocktail glass. Garnish with an orange slice and whipped cream. Add a pretty cocktail straw (love these ones!) and enjoy!
FAQs
What is the difference between whipped cream vodka and vanilla vodka?
Though similar in flavor, there are subtle differences between these two kinds of vodka. Vanilla vodka has been flavored with, you guessed it, vanilla extract!
On the other hand, whipped vodka has been flavored with whipped cream. Though it doesn't contain any actual dairy, this variety of vodka can have a slight dairy flavor to it on top of the sweetness of whipped cream.
In many cases, vanilla is also used in whipped cream vodka. for this cocktail, either variety would work perfectly!
What kind of vanilla vodka is best to use to make a Creamsicle Martini?
Smirnoff vanilla vodka is a go-to option, as it's fairly inexpensive but doesn't skimp on quality. Feel free to go for something higher-end if you like!
There are lots of options when it comes to vanilla vodka, which is a popular kind of flavored vodka. You can also use it to make other dessert-like cocktails.
Which companies make vanilla vodka?
Aside from Smirnoff, some other companies that have popular vanilla vodkas are: Absolut, Grey Goose, Burnett's, Ciroc, Pinnacle, and Van Gogh.
These all vary in terms of price point and quality, so you may want to do a bit of research before choosing the bottle that will work best for you.
Many of these companies also sell their vodka in shooter sizes, meaning you can try them in smaller quantities before committing to a whole bottle.
What is a martini with ice?
If you serve your martini over ice, it's simply considered "on the rocks" like any other cocktail with ice!
Popular Variations and Substitutions
Instead of half & half, you can use heavy cream or whole milk. For a dairy free version of this cocktail, you could also use something like oat milk or almond milk. The texture may not be quite as creamy, but it will be delicious either way!
To really turn this into a dessert, serve your Orange Creamsicle Martini with a scoop of vanilla ice cream.
If you can't find vanilla or whipped cream vodka, you can use a regular vodka with a bit of vanilla extract. Another option is an orange flavored vodka.
Turn this martini into a creamy frozen cocktail by combining all of the ingredients in a blender, including the ice. Blend until everything is thoroughly combined.
For additional garnish, use a twist of orange peel, or grate some orange zest over top of the whipped cream.
More Recipes You'll Love
Vanilla Vodka Orange Creamsicle Martini Recipe
Yield: 1 Creamsicle Martini
Orange Creamsicle Martini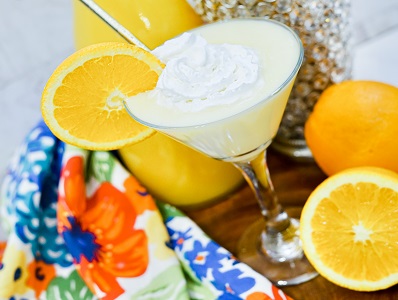 This incredible creamsicle martini with orange juice and vanilla vodka will bring back delicious summer memories of creamy, zesty desserts!
Ingredients
2oz Vanilla Vodka
2oz Triple Sec
2oz Half & Half
Whipped Cream
Orange Slice
Ice Cubes
Instructions
Fill a cocktail shaker with ice cubes.
Pour in the vodka, triple sec, orange juice & half & half.
Shake well.
Pour into a martini glass.
Garnish with an orange slice and whipped cream.
Notes
You can make this cocktail with regular vodka or an orange flavored vodka. Just add some vanilla extract.
Additional garnish ideas: orange peel twist, orange zest, colorful sprinkles.
Another dairy product like whole milk or heavy cream can be used. Or go dairy-free and use your favorite milk substitute.
Nutrition Information:
Yield:
1
Serving Size:
1
Amount Per Serving:
Calories:

390
Total Fat:

8g
Saturated Fat:

5g
Trans Fat:

0g
Unsaturated Fat:

3g
Cholesterol:

26mg
Sodium:

40mg
Carbohydrates:

29g
Fiber:

0g
Sugar:

27g
Protein:

3g