Learn how to make these Crown Royal Peach Shooters for a refreshing drink on a hot summer day!
This Whiskey Peach shooter recipe calls for Crown Royal Peach Whisky, which is a well known Canadian whisky, but you can use any type of whisky for this refreshing shooter. Their peach flavored whiskey infuses these Crown peach shots with delicious and ripe fruity flavor.
Check out the recipes for all our party shots and add a few to your cocktail list! This recipe is great to pair with a wide variety of other whiskey shooters for a fun party experience.
These Crown Royal Peach shooters make for a sweet and smooth drink, and they are one of the best crown royal peach drink recipes I've tried. You'll love the adorable touch of the peach gummy garnish!
If you're looking for an instant way to jump start any occasion from a backyard barbecue to a pool party, this peach shots will do just the trick. And, if you're looking for jello shot recipes, check out our very best Party Shots Recipes.
Why You'll Love Crown Royal Peach Shooters
Here's a very simple recipe for a tasty peach drink that's perfect for a hot afternoon. It's become one of our favorite Crown Peach Whisky drinks.
And no…this cocktail is not a Crown Royal Peach Jello Shot! Those are good too, but that's not this. Don't these look tasty? Served in a shot glass, this cocktail is full of peach flavor goodness.
These drinks are a twist on Peach Crown Jello shots and worth whipping up a batch! So if you're wondering what to mix with Crown Royal Peach, now you've got a new recipe to try. I also recommend trying a Crown Royal Peach Bang, or in the warmer months, this Frozen Peach Crown Royal cocktail
If you're looking for another refreshing drink, try these Cranberry Vodka Spritzers. They're great for around the holidays when served with some rosemary, but you can make these sweet and bubbly drinks all year round!
Ingredients for Peach Shooters
All you need to make these Crown Peach Whisky drinks:
Crown Royal Peach Whisky – infused with the flavor of real Georgia peaches, this variety is a new Whiskey line the company has come out with. It's great for summer cocktails, but any kind of regular whiskey can also be used for these shooters. If you have lots leftover, use it for a Crown Royal Peach Fizz as well!
Simply Peach Juice – made from real fruit juice and all natural ingredients, this juice really enhances the peach flavor of these shooters.
Peach Rings – for garnish, if you like. You could also use slices of peach, a lemon wedge, or fun drink umbrellas or other cocktail decor.
How to Make Peach Shooters
To start, fill a shot glass half way with Crown Royal Peach Whisky.
Then, top up the glass with some Simply Peach juice.
To finish, add a pretty straw in the shot glass. Look how pretty these gold cocktail straws are! Add a peach ring over the straw for garnish.
This peach ring shot is one of the best Crown drinks we've tried. We love the flavor of peaches and the peach ring garnish adds the perfect touch.
Popular Variations and Substitutions for these Peach Crown Cocktails
If you like, you can easily make this in a larger glass for Crown peach cocktails instead of shooters. You can double the recipe, or use the same amount of whisky but double the peach juice and an ice cube.
These lip smacking cocktails go down pretty easy, so you may want to go lighter on the Whisky and add more of the juice.
Add ice if you're looking for a colder drink.
You can also make a batch of these Crown Royal Peach shooters in a large pitcher. Keep in the fridge and give it a stir before pouring over ice. Or make a batch in a cocktail shaker. These will become one of your favorite drink recipes for summer!
Serve this peach ring drink in these pretty Crown Royal shot glasses. Instead of a peach ring, you can use maraschino cherries!
For additional flavors, use some orange juice, pineapple juice, or squeeze in juice from fresh lemon slices.
You can also garnish with real peach slices to highlight the ripe and juicy peach flavor.
What to Serve with Peach Shooters
Serve alongside some tasty appies like these Garlic Stuffed Mushroom Caps.
This Crab Rangoon Dip is another great appetizer to enjoy with drinks.
For something hearty and comforting, serve your Crown Royal shots with Cheesy Garlic Pull Apart Bread.
FAQs for drinks with Crown Peach
What kind of alcohol is in shooters?
Typically a liquor like tequila, whisky, or rum is best for shooters. These drinks are meant to be enjoyed in small portions (and sometimes consumed in one gulp!) but can also be sipped.
What is the best alcohol for peach shooters?
Crown Royal Peach Whisky is a flavorful and fruity option that makes for a delicious peach shooter. If you can't find it, Peach Schnapps also work great, or any kind of peach vodka.
You could also use regular whisky; the peach juice will still give this drink its signature peachy flavor!
Is Crown Royal Peach Whisky seasonal?
Yes, Crown Peach is typically available mostly in the summer months. If you really love it, stock up then so you can enjoy these and other Crown peach drinks all year round!
What to Mix Crown Peach With?
Champagne, lemonade, cranberry juice and iced tea are all delicious when mixed together in a Crown Royal Peach cocktail.
Wondering what to mix with Crown Peach? These Easy Peach Shooters are a refreshing cocktail for a hot summer afternoon and are one of our favorite crown peach mixed drinks !
Peach Shooters Recipe
If you enjoy this drink, please be sure to rate it 5 stars below! And print this off or save it to your recipes folder!
Yield: 1 drink
Crown Royal Peach Shooters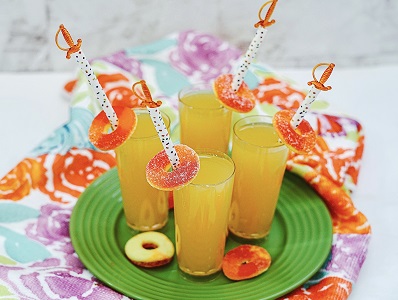 These Easy Peach Shooters will become a summer favorite! Sweet and refreshing, these quick and easy drinks are great for cooling off on a hot day.
Ingredients
Crown Royal Peach Whisky
Simply Peach Juice
Instructions
Fill a shot glass half way with whisky.
Fill to the top with Simply Peach Juice.
Add a pretty straw.
Put a Peach Ring on top of the straw.
Serve and enjoy!
Notes
This drink can be made in a larger glass by doubling the recipe (or just doubling the peach juice if you don't want as much whisky).
Because these drinks are so sweet they go down easy, which means you may want to lighten up on the amount of alcohol.
Feel free to add ice for a more chilled drink.
If you're serving these at a party or gathering, prepare the shooters in a large pitcher and pour over ice.
For additional flavor, add fresh lemon or lime juice, orange juice, pineapple juice, or other fruity flavors of your choosing.
Nutrition Information:
Yield:
1
Serving Size:
1
Amount Per Serving:
Calories:

424
Total Fat:

0g
Saturated Fat:

0g
Trans Fat:

0g
Unsaturated Fat:

0g
Cholesterol:

0mg
Sodium:

21mg
Carbohydrates:

58g
Fiber:

4g
Sugar:

49g
Protein:

2g