This easy Italian Margarita recipe is great for when you're craving classic margaritas but want an extra citrus twist!
Perfect to make with delicious Espolòn Blanco Tequila, this Olive Garden copycat cocktail combines tequila and amaretto with orange juice for a sweet and refreshing take on a margarita with a distinctly Italian inspiration.
Why You'll Love this Margarita with Amaretto Liqueur
Flavored with orange and Italian liqueur, this is unlike any margarita you've ever had.
It's reminiscent of the classic cocktail if it got an Italian makeover. This sweet and refreshing beverage is perfect to pair with any of your favorite Italian dishes.
With just a handful of ingredients, you can quickly prepare this cocktail that's ideal for sipping during the summer.
You'll love the extra citrus flavor from the orange juice and the bittersweet addition of almond from the amaretto. Shake up one of these distinguished and elegant Italian cocktails!
What's In an Italian Margarita?
Orange Juice – pairs well with the classic flavor of lime juice.
Tequila – Espolòn is always our go to, but feel free to use your favorite tequila blanco.
Amaretto – this almond liqueur provides a subtle but distinct almond flavor that's rich and sweet.
Fresh Lime Juice – bottled lime juice can be used in a pinch, but fresh is always better.
Ice Cubes – this cocktail is best served ice cold.
Orange Slices and Lime Wedges – for garnish and extra citrus flavor.
Margarita Salt – the best way to achieve a salted rim is with salt specifically meant for it!
How to Make an Italian Margarita
Pour tequila and amaretto into a cocktail shaker filled with ice.
Squeeze in the lime juice. Top off with orange juice. Shake vigorously.
Coat the rim of a glass with lime juice and roll in margarita salt.
Pour into a glass and garnish with an orange slice and a lime slice.
FAQs
How many calories are in an Italian Margarita?
This drink has between 250 and 300 calories, depending on the proportions you use.
What is the difference between an Italian Margarita and regular margarita?
Where a regular margarita uses tequila, triple sec (or any orange liqueur), sour mix, and lime juice, this Italian version goes for orange juice instead of the mix and amaretto instead of the orange liqueur.
This gives it a refreshing boost of citrus flavor and complexifies the flavor profile with nutty and slightly bitter almond flavors.
Can I turn this into a frozen Italian Margarita?
Yes, instead of making your cocktail in a shaker simply combine all of the ingredients in a cocktail blender with ice and give it a good blend. Then pour into margarita glasses and garnish as normal.
What is a Fabrizia Italian Margarita?
This is a drink available in cans and bottles that takes a slightly different approach to Italian flavors.
Instead of orange, the Fabrizia brand margarita leans into lemon by making their ready-to-drink cocktail with limoncello, tequila, and lemonade.
Popular Variations and Substitutions
If you want an even more complex blend of robust flavors, use a resposado tequila instead of a blanco.
For added sweetness, pour in a dash of simple syrup.
To intensify the orange flavor, use an orange liqueur like Cointreau or triple sec. You can do this instead of or in addition to the amaretto, especially if you like your drinks with a little bit of extra bite.
If you aren't a fan of amaretto, other Italian liqueurs like limoncello or Aperol are also delicious ways to give your margarita a distinctly Italian twist.
Use blood orange to give your cocktail a beautiful reddish color. Many grocery stores carry bottled blood orange juice!
More Recipes You'll Love
Margarita with Italian Liqueur
Yield: 2 cocktails
Italian Margarita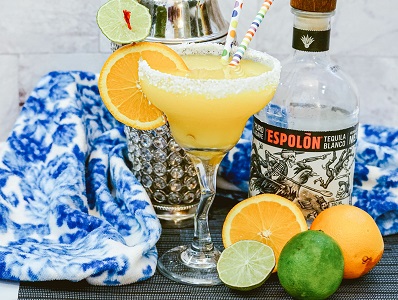 This sweet and refreshing margarita is elevated with orange juice and almond liqueur for a distinctly Italian cocktail!
Ingredients
2 Ounces Tequila
1 Ounce Amaretto
1 Ounce Fresh Squeezed Lime Juice.
Ice Cubes
Orange Slices
Lime Slices
Instructions
Fill a cocktail shaker with ice cubes.
Pour in tequila & amaretto.
Squeeze in the lime juice.
Top off with orange juice. Shake well.
Coat the rim of a glass with lime juice and roll in margarita salt.
Pour into a glass and garnish with orange and lime slices.
Notes
Blanco tequila is perfect for these cocktails, but if you want a deeper and more rounded flavor you can use resposado.
Add some simple syrup if you like your drinks on the sweet side.
Other Italian liqueuers you can use for this margarita are limoncello and Aperol.
Nutrition Information:
Yield:
2
Serving Size:
1
Amount Per Serving:
Calories:

270
Total Fat:

0g
Saturated Fat:

0g
Trans Fat:

0g
Unsaturated Fat:

0g
Cholesterol:

0mg
Sodium:

506mg
Carbohydrates:

28g
Fiber:

1g
Sugar:

21g
Protein:

1g