When you want a savory and flavorful appetizer that's sure to be a hit with any crowd, make this easy French Onion Cheese Ball and have a ready to serve, foolproof snack!
When it comes to recipes for cheese balls, it doesn't get much simpler than this! With minimal ingredients and hardly any prep time, this is the perfect snappy appetizer or snack that will become a new go-to recipe.
Easy to customize, this onion cheese ball will revolutionize your appetizer game and impress any guest!
And if you love appetizers with that French onion flair, try these Stuffed Mini Peppers that have a delicious and satisfying French onion filling!
Why You'll Love this Simple Cheese Ball Recipe
With a creamy and flavorful interior and a coating of crispy fried onions, this cheese ball appetizer is as easy as it is delicious! Gather just 4 ingredients, and in a few minutes of prep you'll have a fantastic onion-y snack that guests will adore.
This is the best cheese ball recipe when you need a gourmet-quality savory treat but don't have much time on your hands. Pair with crackers, chips, veggies, and more!
This cheese ball makes an excellent appetizer centerpiece at any get-together and pairs wells with a nice cocktail. It doesn't get much easier than this recipe, and the results are perfect and impressive every time.
Make this French Onion Cheese Ball with white cheddar and French onion dip mix for a mouth-watering appetizer.
Onion Cheese Ball Ingredients
Whipped Cream Cheese – I like to use the whipped cream cheese for its lighter and more airy texture, but any kind of cream cheese will get the job done.
Shredded White Cheddar Cheese – white cheddar makes for a cheese ball with a more consistent color within. If you can't find white cheddar, and kind of shredded cheddar cheese will do.
French Onion Soup Mix – a good brand for this is the Knorr French onion soup mix, but any brand works just fine.
Fried Onions – these form a crispy and crunchy exterior with some extra salty onion flavor that ties everything together and makes this cheese ball so satisfying to dig into.
How to Make a French Onion Cheese Ball
In a mixing bowl, combine whipped cream cheese and white cheddar cheese. Add onion seasoning. Once combined, form cheese mixture into a ball.
Coat the cheese ball in fried onions.
Serve with some good quality crackers and enjoy.
Cheese Ball FAQs
What do you serve with cheeseballs?
With a wide variety of dippers to choose from, this ultimately comes down to personal taste. Pairing your cheese ball with buttery crackers or chips is never a bad idea. For something a bit more subtle but filling, go with a nice crusty bread.
You can even serve with some slices of apple or pear for a sweet and savory combination. Other options include raw veggies like carrots or celery, crostini, bagel chips, or pretzels.
Are cheese balls healthy?
Cheese balls are not really healthy, as they are largely composed of ingredients that are high in fat and calories.
That's why a cheese ball is best served to a group, and another reason why serving with some fresh veggies is a fantastic option.
How do you make a cheese ball firmer?
For a cheese ball with a firmer texture, wrap it in plastic wrap and store in the fridge for about an hour. Remove the cheese ball from the fridge 20-30 minutes before serving.
It will come back close to room temperature, but if it remains too cold, it will be hard to scoop.
Popular French Onion Cheeseball Variations and Substitutions
You can turn this recipe into mini cheese balls by taking smaller scoops of the cheese mixture and rolling in the fried onions individually.
For an eve more prominent onion flavor, cut up a fresh onion and heat olive oil in a pan over medium high heat (and add a bit of butter, if you like). Then cook the onions, stirring occasionally until they're soft and brown. If you want, add a small amount of sugar to the caramelized onions to bring out the sweetness. Remove from heat and allow them to cool. Then stir them into the cheese mixture before rolling in fried onions.
If you'd like extra flavor in your cheese mixture, season with salt and pepper, or use other seasonings like garlic powder, paprika, onion powder, or whatever sounds good to you!
To get a slightly softer textured cheese ball, use some combination of cream cheese, sour cream, and/or Greek yogurt.
More Cheese Ball Recipes You'll Love
Onion Cheese Ball with Cream Cheese
Yield: 8 servings
French Onion Cheese Ball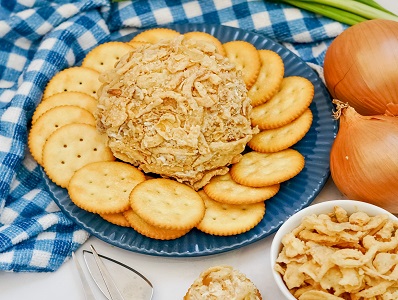 This tasty Onion Cheese Ball only requires four simple ingredients and yields a creamy interior with a savory, crunchy exterior!
Ingredients
8oz Whipped Cream Cheese
4oz Shredded White Cheddar Cheese
1 Cup Fried Onions
Instructions
In a mixing bowl, combine whipped cream cheese, cheddar cheese & French onion seasoning.
Once combined, form into a ball.
Coat the cheese ball in fried onions.
Serve with crackers & enjoy.
Notes
This recipe can also be used to make mini onion cheese balls by portioning out the cheese mixture into smaller scoops.
For extra flavor, season the cheese mixture with salt, pepper, and whatever other seasonings you like.
Nutrition Information:
Yield:
8
Serving Size:
1
Amount Per Serving:
Calories:

261
Total Fat:

20g
Saturated Fat:

10g
Trans Fat:

0g
Unsaturated Fat:

8g
Cholesterol:

48mg
Sodium:

371mg
Carbohydrates:

12g
Fiber:

1g
Sugar:

3g
Protein:

8g