For a refreshing and rejuvenating beverage, put together a vibrant pitcher of this tasty and fizzy Champagne and Lemonade Vodka Punch!
Warm weather calls for light and delicious cocktails! This vodka punch is bursting with lemony flavor and has a sweet and bubbly finish that makes it irresistible.
Perfect to enjoy in the shade on a hot day, to sip during a picnic, or as a companion to a warm summer night.
You'll love how easy it is to make this effervescent and satisfying cocktail! If you love sweet and boozy cocktail like this one, you should also try this Blue Raspberry Vodka Cocktail!
Why You'll Love this Lemonade and Champagne Cocktail
All you need is 5 ingredients to make this invigorating sparkling cocktail! With the perfect balance of sweetness and sour lemony flavor, you'll love mixing and serving this by-the-pitcher vodka punch.
Friends, family, and guests won't be able to get enough of this refreshing beverage. Excellent as a balm to beat the heat but delicious all year round, this Champagne lemonade cocktail is a unique blend of tasty ingredients.
This cocktail pops and fizzes with citrus sweetness, and the pale yellow finish is gorgeous against a contrasting blue sky. Harness the nostalgia of lemonade with this boozy grown-up version of the classic summer drink!
Sparkling wine adds the perfect amount of bubbly goodness, making this drink beyond sippable and thirst-quenching.
Champagne with Lemonade Cocktail Ingredients
Lemonade Vodka – this citrus flavored vodka adds an extra alcoholic bite and doubles down on the lemon flavor.
Champagne – any sparkling wine will work perfectly, but Champagne and Prosecco are the preferred varieties here.
Lemonade – perfect as a refreshing mixer, lemonade brings a balance of sweet and sour that will take you right back to your childhood!
Lemon Lime Soda – partners with the sparkling wine to add the perfect amount of bubbly fizz, as well as a burst of extra sweetness and citrus flavor.
Lemon Slices – act as a garnish for pops of gorgeous yellow color and added lemony flavor.
Ice Cubes – this drink is best enjoyed ice cold.
How to Make a Champagne Lemonade Cocktail
Add ice cubes to a large pitcher. Pour in 1 cup of Lemonade Vodka.
Add an entire bottle of Champagne.
Pour in 1 liter of lemon lime soda and 30oz of Lemonade (or half a bottle).
Pour into ice filled glasses and garnish with lemon slices.
FAQs
What alcohol mixes well with Champagne?
As an alcoholic mixer for Champagne, vodka is one o the most popular options by far. It won't affect the flavor of the Champagne and gives it a stronger kick.
Plus, you can use a wide variety of flavored vodkas to mix with Champagne to provide some extra pops of flavor! Some other spirits that mix well with Champagne include rum, cognac, tequila, brandy, and gin.
What is good to add to Champagne?
Because of its bubbly consistency and typically subtle flavor, Champagne pairs well with most fruit juices. Add a splash of lime juice, lemon juice, orange juice, or grapefruit juice for a burst of citrus. (Add too much and you'll wind up with a mimosa!)
You can also pair Champagne with any number of flavored liqueurs, like Chambord (raspberry), Cointreau (orange), or Midori (melon).
Ingredients like ice and chunks of fresh fruit are also a great idea to add to your Champagne. Better yet, freeze some fruit and mix it in to cool your Champagne without watering it down!
What is the best alcohol to mix with lemonade?
Lemonade pairs well with vodka, especially any citrus flavored vodka. You can mix it with a different kind of flavored vodka as well, like raspberry, strawberry, or other flavors in that realm to get delicious and fruity variations.
Some other liquors that pair well with lemonade are tequila, gin, and bourbon. The sweetness and tartness in the lemonade will bring out different flavors for each of these spirits, so feel free to experiment and see which combination you like best!
Popular Variations and Substitutions
When it comes to mixed drinks like this, you may want to choose Prosecco over Champagne. The former is typically less expensive and performs the same duties as champagne in this cocktail, namely a somewhat dry white wine flavor and a nice, crisp bubbly finish. Other options for sparkling wines include Cava or American-made sparkling wines.
If you're unable to find lemon flavored vodka, another citrusy spirit may work instead. You could also use plain vodka and rely on the lemonade and lemon slices for lemony flavor, or else add some fresh lemon juice if you like your drink really lemony.
For other garnishes, add some fun straws or drink umbrellas, a curl of lemon peel, or sprigs of fresh mint for a pop of color and refreshing, cool flavor.
Use pink lemonade for a warmer-colored cocktail.
Add some extra sweetness by adding some sugar to the rims of your glasses. Take a lemon wedge and run it along the edge, then dip in a plate of sugar. You can even create a lemon sugar by combining sugar with fresh lemon zest.
Add your favorite varieties of fresh fruit to give your Champagne and lemonade cocktail an extra dimension of fruity flavor.
More Recipes You'll Love
Lemonade Champagne Cocktail
Yield: 6 drinks
Champagne and Lemonade Vodka Punch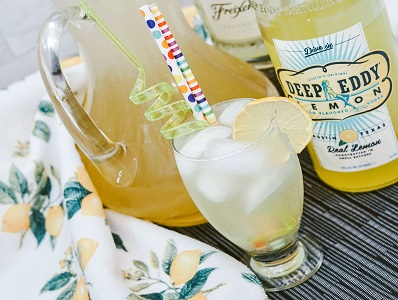 This super tasty Lemonade Champagne Cocktail is a bubbly and tartly sweet beverage that's so easy to make by the pitcher!
Ingredients
Lemonade Vodka
Champagne
Lemonade
Lemon Slices
Ice Cubes
Instructions
Add ice cubes to a large pitcher.
Pour in 1 cup of Lemonade Vodka.
Add an entire bottle of champagne.
Pour in 1 liter of lemon lime soda & 30oz Lemonade (half bottle).
Pour into ice filled glasses and garnish with lemon slices.
Notes
Regular vodka can be used instead of lemon flavored. You may wish to add some fresh lemon juice to replace the missing lemon flavor.
Add frozen fruit instead of ice to avoid watering down the cocktail.
Throw in a splash of your favorite fruit juice for some extra flavor.
For the sparkling wine, Champagne, Prosecco, and Cava are some of the best options.
Nutrition Information:
Yield:
6
Serving Size:
1
Amount Per Serving:
Calories:

95
Total Fat:

0g
Saturated Fat:

0g
Trans Fat:

0g
Unsaturated Fat:

0g
Cholesterol:

0mg
Sodium:

11mg
Carbohydrates:

16g
Fiber:

0g
Sugar:

15g
Protein:

0g