These tasty Banana Pudding Shots are made with 99 Bananas liqueur for a fruity boozy kick! You'll love the flavors of banana splits and banana creme pies in a yummy pudding shot.
Get ready to turn your favorite childhood treat into an adults-only delight! This one is perfect for anybody who has fond memories of creamy banana pudding.
And if you want an alcohol-free treat that has similar flavors, try these Banana Pudding Cups. Layers of sweet pudding with cookies and homemade whipped topping!
Now it's time to take that nostalgia to the next level. You'll love these playful shots that infuse the ripe banana flavors with the punch of 99 Bananas and creamy pudding.
These pudding shots with 99 Bananas taste just like a banana cream pie! These dessert shots are a delicious and imaginative way to capture the essence of your favorite dessert.
Transform simple banana pudding into a grown-up indulgence! Whether you're hosting a lively gathering or simply want to enjoy a fun night in, these shots are the perfect combination of creamy and spirited.
Why You'll Love this Banana Pudding Shot Recipe
This boozy dessert is both whimsical and indulgent! Remember the joy of spooning into a bowl of creamy banana pudding?
Imagine that experience infused with a spirited kick that's sure to delight. Fans of banana will love this dessert in shot form.
It combines the nostalgia of banana pudding with the bold flavor of 99 Bananas liqueur.
Whether you're celebrating a special occasion or simply want to enjoy a unique treat, whip up a batch of these easy pudding shots.
As you sip and savor the blend of creamy banana goodness and the lively note of 99 Bananas, you'll be transported to a world where dessert meets cocktails in the most delightful way.
More Pudding Shot Recipes:
Ingredients for Banana Cream Pie Pudding Shots
How to Make Banana Cream Pudding Shots
Combine the 99 Bananas, banana pudding mix, milk, and whipped topping in a large mixing bowl, blending together well.
Crush 2 nilla wafer cookies per condiment cup. Line the bottom of each condiment cup with crushed cookies.
Transfer pudding mixture to condiment cups. Top with whipped cream and a cherry.
FAQs
What is 99 Bananas?
The 99 Bananas proof rating is right in the name, 99 proof! That translates to 49.5% ABV. So this 99 proof banana liqueur is probably a bit stronger than many other fruit-based spirits you've had in the past.
Can you drink 99 Bananas straight?
Yes, this banana liqueur can be enjoyed on its own. Take banana shots for a quick burst of fruity, boozy flavor, or even enjoy on the rocks and sip casually.
You'll love the fruity flavor of bananas, perfect for the summertime.
How much alcohol is in a shot of 99?
Because this liqueur has such high alcohol content, a 1.5oz shot of 99 Bananas has about as much alcohol as a shot of some vodkas and tequilas, if not more.
Don't let the fruity taste fool you, this is a strong spirit!
How long will 99 Bananas shots last?
If you store your banana pudding shots in the fridge, they should last 5 days. Be sure to keep them covered. Many plastic condiment cups come with lids, which are great for storage.
The shots should only be left at room temperature for a couple hours at a time. Leave them to chill until you're ready to serve.
Popular Variations and Substitutions
More Shot Recipes You'll Love
Banana Split Pudding Shots
Yield: 12 banana pudding shots
Banana Pudding Shots - 99 Bananas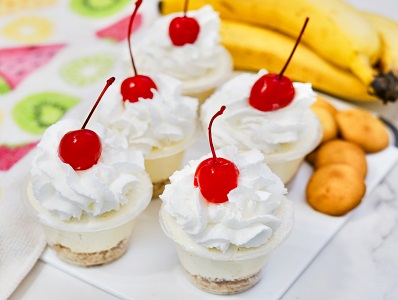 These pudding shots are bursting with ripe banana flavor! You'll love the creamy texture and the crunchy cookie layer.
Ingredients
8oz Whipped Topping
1 Cup 99 Bananas
1/4 Cup Milk
Cherries
Whipped Cream
Vanilla Wafer Cookies
Instructions
Combine 99 bananas, banana pudding mix, whipped topping & milk in a mixing bowl.
Crush 2 Vanilla wafer cookies per condiment cup.
Line the bottom of each condiment cup with crushed cookies.
Transfer mixture to condiment cups.
Garnish each cup with whipped cream & a cherry.
Notes
Use another kind of pudding, like vanilla or chocolate, for a slight variation on these pudding shots.
Graham crackers can be substituted for the wafer cookies.
If you can't find 99 Bananas, use banana flavored vodka.
Other garnishes include crushed cookies, chocolate syrup, and sprinkles.
Nutrition Information:
Yield:
12
Serving Size:
1
Amount Per Serving:
Calories:

966
Total Fat:

9g
Saturated Fat:

6g
Trans Fat:

0g
Unsaturated Fat:

2g
Cholesterol:

1mg
Sodium:

60mg
Carbohydrates:

233g
Fiber:

25g
Sugar:

127g
Protein:

11g