Make this Strawberry Twinkie Cake recipe for a light and fruity dessert that's perfect for the summer–it requires no baking, so it's easy and convenient to prepare this delicious treat that bursting with fresh flavors!
Channel the delectable flavors of strawberry shortcake with this no-bake strawberry dessert! You'll only need a few key ingredients to put together this easy dessert, and the results are perfect every time.
Pair this cake with a batch of Strawberry Shortcake Shooters for the ultimate dessert combo! You can find all our Dessert recipes here.
This cake is perfect for the summer when you don't want to turn on the oven. You can even alter the kinds of fruit on top to customize this cake to your taste.
With layers of spongy Twinkies, sliced strawberries, and vanilla pudding, this satisfying fruity dessert is the ultimate ice box cake for warm weather.
Why You'll Love this No-Bake Strawberry Twinkie Cake
Prepare to have your taste buds dazzled by the sweet sensation that is Strawberry Twinkie Cake, an irresistible twist on a classic favorite.
Imagine layers of fluffy sponge cake, sandwiched with luscious pudding filling, and topped with a fresh, ripe strawberries and a cool whipped topping.
This delightful confection is a tasty marriage of nostalgic charm and fruity goodness. Grab your apron and embark on a journey to create a showstopping dessert that will have everyone begging for seconds.
Get ready to experience the pure bliss of No-Bake Twinkie Cake without ever turning on your oven!
Ingredients for Twinkie Strawberry Cake
Twinkies – these sweet and spongy cakes are a classic dessert that act as an excellent base for this no-bake treat.
Whipped Topping – this light and sweet topping acts as a whipped frosting on top of this cake and brings out the sweet flavors.
Strawberries – use fresh and tasty strawberries for a pop of gorgeous red color and fruity flavor that makes this no-bake dessert irresistible.
Vanilla Pudding Mix – acts as an added layer of decadence in the middle of your cake and gives this dessert a rich and satisfying quality.
How to Make a No-Bake Twinkie Cake
Unwrap and place the Twinkies into an 8×8 baking dish.

Prepare vanilla pudding as instructed and coat the Twinkies with the pudding.
Wash and slice the strawberries. Place half of the sliced strawberries on top of the vanilla pudding.
Spread the whipped topping on top. Take the other half of the strawberries and place them on top of the whipped topping.
Set the cake in the fridge for at least 45 minutes to let it set before serving.
Twinkie Cake FAQs
Can I slice the Twinkles in half lengthwise instead of using whole?
Absolutely! Especially if you're using a differently sized dish, it may be better to slice the Twinkies so they'll fit better. This will also allow the pudding to seep down between the cakes.
How many calories in this strawberry Twinkie dessert?
This recipe yields about 12 servings of no-bake Twinkie cake, and each slice is around 100 calories. You can use a light whipped topping or this fat-free/
sugar-free pudding mix
to make an even lighter version of this dessert.
How long will this Twinkie cake last in the fridge?
Your no-bake dessert will last in the fridge for 4-5 days. Twinkies have a long shelf life, but the strawberries, pudding, and whipped topping won't last quite as long.
It's possible your cake will last even longer than 5 days, so just be sure to check for quality before enjoying past that point.
I don't recommend freezing this cake, as the textures and flavors will be altered once thawed out again.
Popular Variations and Substitutions
Customize this cake to your liking by using a variety of fruits. In addition to strawberries, you can try blueberries, banana slices, blackberries, mango, raspberries, kiwis, pineapple, or peaches. For juicier fruits, try to avoid adding too much moisture. This can make the Twinkies soggy.
Another way to switch up the flavors of this no-bake dessert would be to use a different flavor of pudding. Jell-O brand sells a strawberry creme pudding that would be excellent, but you could also use chocolate, banana creme, lemon, or cheesecake flavored pudding mix.
There are also additional flavors of Twinkies that can change this dessert. Try varieties with chocolate cake or chocolate cream, or something different like orange creme pop or these banana Twinkies.
Instead of Twinkies, you could use madeleines, pieces of pound cake, or another kind of snack cake.
Serve your no-bake dessert with whipped cream, sprinkles, strawberry syrup, or crushed freeze-dried strawberries for more fruity flavor!
More Recipes You'll Love
No-Bake Twinkie Cake
Yield: 12 servings
Strawberry Twinkie Cake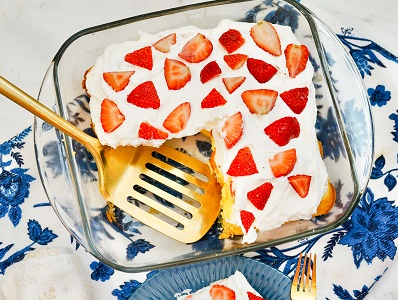 Combine sponge cakes with creamy pudding and fresh strawberries for this delicious no-bake Twinkie Cake!
Ingredients
8oz Whipped Topping
1 Pound Strawberries
1.85oz Box Vanilla Pudding
Instructions
Unwrap & place the Twinkies into an 8x8 baking dish.
Prepare vanilla pudding as instructed and coat the Twinkies with the pudding.
Wash & slice the strawberries.
Place half of the strawberries on top of the vanilla pudding.
Spread the whipped topping on top.
Take the other half of the strawberries and place them on top of the whipped topping.
Let sit in the fridge for at least 45 minutes to set.
Notes
Use other kinds of fruit instead of or in addition to strawberries and customize to your liking.
Other flavors of pudding can be used to change up the flavor of this dessert.
Substitute other kinds of snack cakes or pieces of sponge cake if you prefer.
Nutrition Information:
Yield:
12
Serving Size:
1
Amount Per Serving:
Calories:

91
Total Fat:

5g
Saturated Fat:

4g
Trans Fat:

0g
Unsaturated Fat:

1g
Cholesterol:

1mg
Sodium:

28mg
Carbohydrates:

10g
Fiber:

1g
Sugar:

8g
Protein:

1g