These fun and handheld Caprese Bites take the iconic flavors of a Caprese salad and turn them into a super serve-able appetizer!
This is a fantastic appetizer consisting of a phyllo shell filled with tomato, basil leaf, and a mozzarella ball. Drizzle with balsamic vinegar to bring all of the flavors together and channel the classic Caprese salad dish.
Just like these Cranberry Brie Bites, this super simple dish is made easy by using premade pastry shells that you can find at any grocery store!
Why You'll Love this Caprese Appetizer
Whenever you need a quick and easy snack, these Caprese bites will always get the job done! With creamy mozzarella cheese, juicy tomato, and aromatic fresh basil, these bite-sized appetizers are contained in a crispy and delicious phyllo pastry shell.
Top with balsamic glaze for an extra touch of sweet tanginess that pairs well with the tomatoes and basil and ties all the ingredients together.
While this recipe makes for an excellent summer appetizer, you'll enjoy serving these handheld savory treats all year long! Extremely easy to make with just five ingredients, you can impress your guests without spending hours in the kitchen.
Pour yourself a glass of wine and enjoy these exciting and fun Caprese Bites!
Caprese Bites Appetizer Ingredients
Cherry Tomatoes – add a beautiful touch of red and a tart sweetness.
Mini Phyllo Pastry Shells – these ready to use pastry shells are extremely convenient to use in order to create showstopping but simple appetizers.
Mini Fresh Mozzarella Balls – add a creamy cheesiness and balance out the acidity of the tomatoes and balsamic.
Basil Leaves – fresh basil provides color contrast and some aromatic and slightly peppery flavor.
Balsamic Vinaigrette – helps tie all of the ingredients together with a sweet tartness; balsamic is a classic topping for Caprese salad.
How to Make this Caprese Salad Bites Appetizer Recipe
Slice the cherry tomatoes in half. Arrange phyllo shells on a serving platter. Place a fresh mozzarella ball into each phyllo shell.
Then add a cherry tomato half & a basil leaf. If the leaves are large, you may want to tear or slice them in half.
Drizzle with balsamic vinaigrette.
FAQs
Is Caprese a healthy snack?
Absolutely! Tomatoes in particular boast lots of health benefits and contain vitamins and other nutritional components like potassium.
Their signature red color comes from lycopene, which has been connected to both heart health and eye health. Basil is also rich in antioxidants and natural essential oils.
When using fresh mozzarella, you'll avoid some of the downfalls of more processed cheese. Fresh mozzarella has things like iron, potassium, protein, and lots of calcium.
What do you eat Caprese with?
Caprese salad is often served with some kind of bread, but luckily this Caprese appetizer include phyllo cups as the built in bread component!
Caprese salad is also sometimes served with some kind of grilled protein like chicken, and if you're looking to make this appetizer a heartier and more filling dish you could easily add some chopped grilled chicken to the phyllo cups.
What dressing is on Caprese salad?
Balsamic vinaigrette is one of the most common toppings for Caprese salad, but sometimes it can also be topped with a simple combination of olive oil with salt and pepper.
Balsamic glaze is a great choice because it meshes well with the flavors of the other ingredients. It adds another dimension of sweetness and acidity that broadens the flavor profile of your appetizer.
This is typically made by combining balsamic vinegar with other ingredients like honey, mustard, garlic, and olive oil
What tomatoes are best for Caprese?
Cherry tomatoes are great for this appetizer recipe since they fit well in the phyllo cups, but if you prefer to use other kinds of tomato, you can just as well dice into small pieces and include a spoonful of diced tomato.
Go with Roma tomatoes, San Marzano, Campari, or Beefsteak, or you could even do a combination.
Popular Variations and Substitutions
Caprese Bites with Prosciutto – a fantastic way to add some salty and savory flavor is to add some prosciutto to your Caprese Bites.
Caprese Skewers – another fun way to serve this appetizer is to arrange the ingredients on wooden skewers. If you prepare this way, it can be a delicious extra touch to season the skewers before adding the ingredients.
Caprese Skewers with Salami – you can easily make the skewer version of this appetizer and add a protein like salami, or combine with the first idea and use some prosciutto.
If you're not a fan of balsamic, another delicious way to prepare your Caprese appetizer is to use some olive oil with salt and pepper.
For a touch of heat, use red pepper flakes.
Can't find the phyllo shells? You can also use a baguette, sliced into small pieces and toasted. Or try it on large bagel chips. You'll want to try to get the ingredients flatter if you do this. Mozzarella balls could easily roll right off a slice of baguette!
More Recipes You'll Love
Caprese Bites Appetizer Recipe
Yield: 12 appetizers
Caprese Bites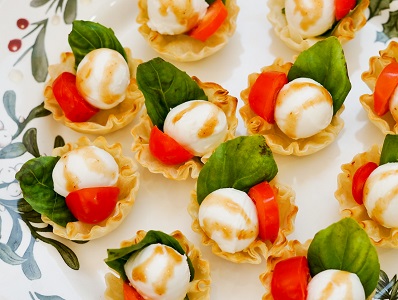 These caprese bites are easy to make and so fun to eat! Tomato, mozzarella, and basil come together in a crispy phyllo cup.
Ingredients
Cherry Tomatoes
Mini Fresh Mozzarella Balls
Basil Leaves
Balsamic Vinaigrette
Instructions
Slice the cherry tomatoes in half.
Place a fresh mozzarella ball into each phyllo shell.
Add a cherry tomato half & a basil leaf.
Drizzle with balsamic vinaigrette.


Notes
Another way to prepare this appetizer is to arrange the ingredients on wooden skewers.
Olive oil can be used instead of balsamic vinaigrette. You'll also want to add some salt and pepper for extra flavor.
For a more filling and substantial appetizer, add protein like salami or prosciutto.